Free Bootstrap Themes - 2021 Update
news
---
In 2021, we saw a huge update to Bootstrap with the release of Bootstrap 5! This year, all of our Bootstrap themes and templates have received updates to support Bootstrap 5, and we have added some design updates and other features for some of our most popular Bootstrap themes and Bootstrap templates!
Themes with Design Changes in 2021
---
The following templates and themes have been updated to use Bootstrap 5 and they have also received a design update with significant changes to the appearance of the layout.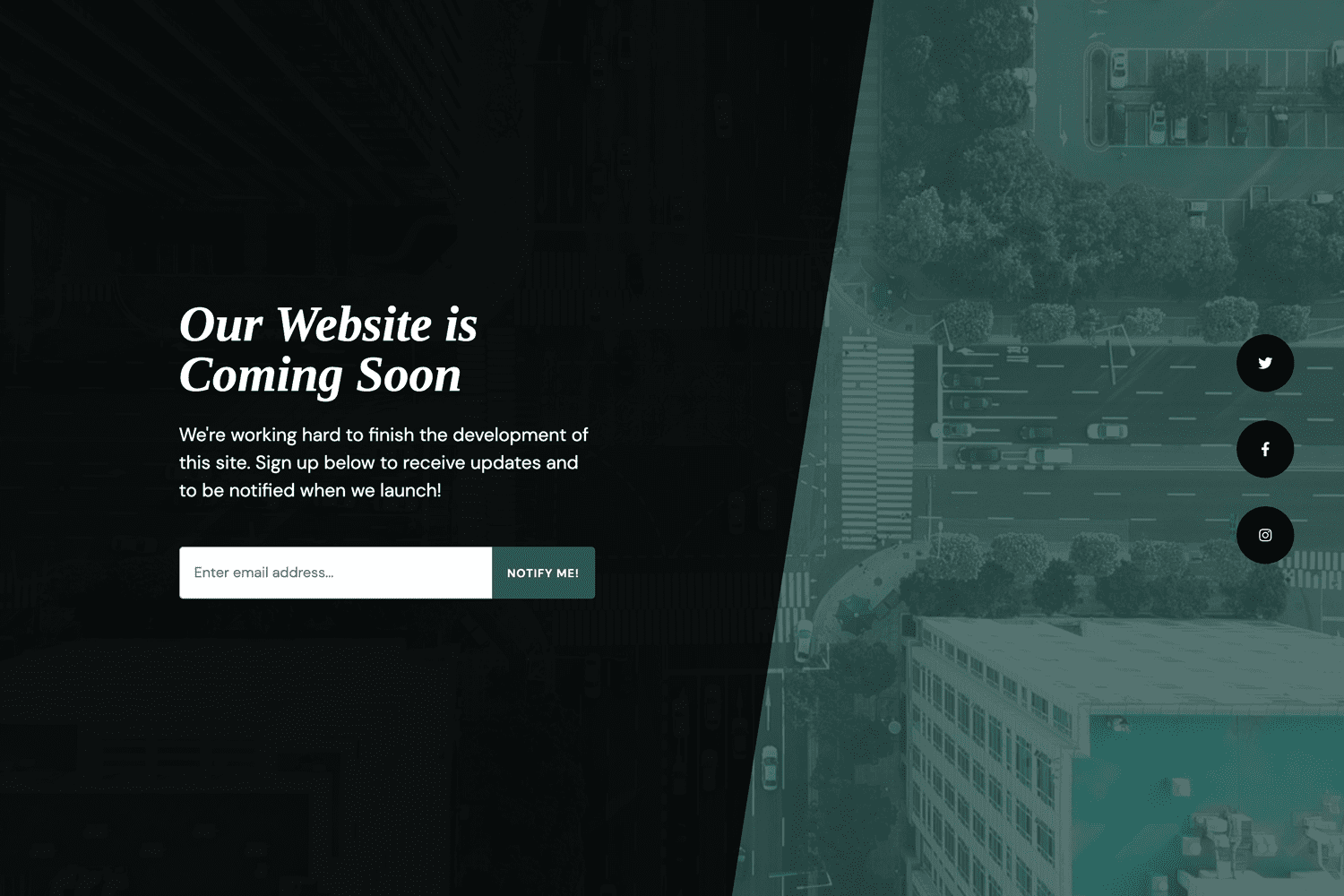 Coming Soon has been reimagined with its Bootstrap 5 update in 2021, and features a fresh new color palette with a modern and elegant dark teal on black design with new font pairings. A few other changes have been made on the code side, specifically in the CSS, to improve the layout and positioning of the social icons.
Also, as an added bonus, the subscriber signup form has been integrated with our new form service, Start Bootstrap Forms, which you can use to add functionality to the signup form for just $5 per month! This is a super simple way to make the form functional, and a great way to help support Start Bootstrap's creation of new free Bootstrap templates and themes!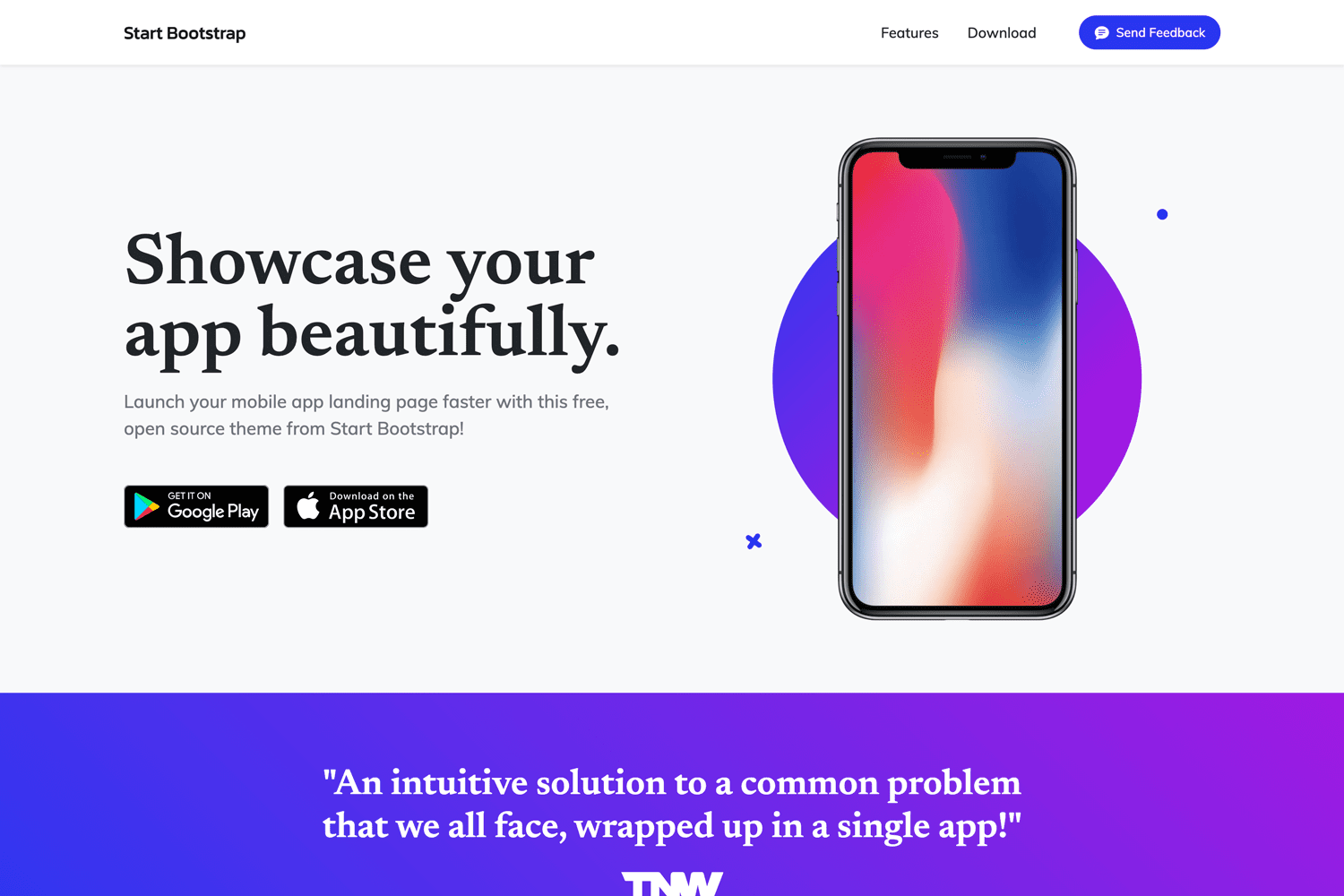 One of our more exciting design updates this year was our New Age theme! In terms of design, this theme was one of the more outdated looking items on Start Bootstrap, and was in need of a design refresh.
The new design features a bold color combination with updated mockups for presenting your apps, new fonts, and more! This theme also includes a feedback form modal, which is pre-integrated with our new Start Bootstrap Forms service, which you can sign up for to make this form functional in one super easy step!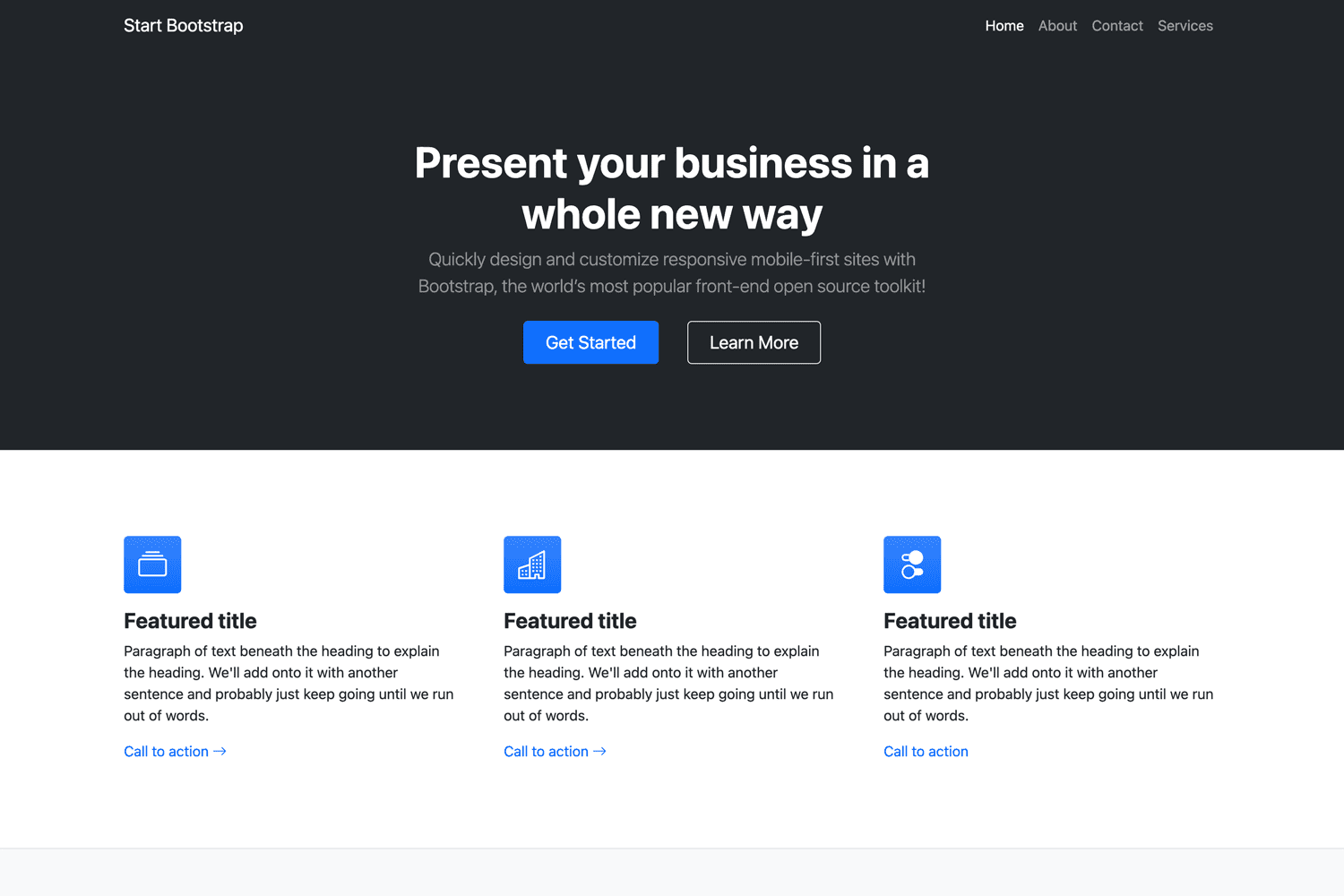 Who said Bootstrap can't be beautiful on it's own? With our designed Business Frontpage template, we don't use any custom styling past what Bootstrap 5 offers by default, and this theme is perfectly usable as-is, or as a starting point for a new design!
This template is also integrated with our new Start Bootstrap Forms service, which is a super simple way to add functionality to the contact form in this template.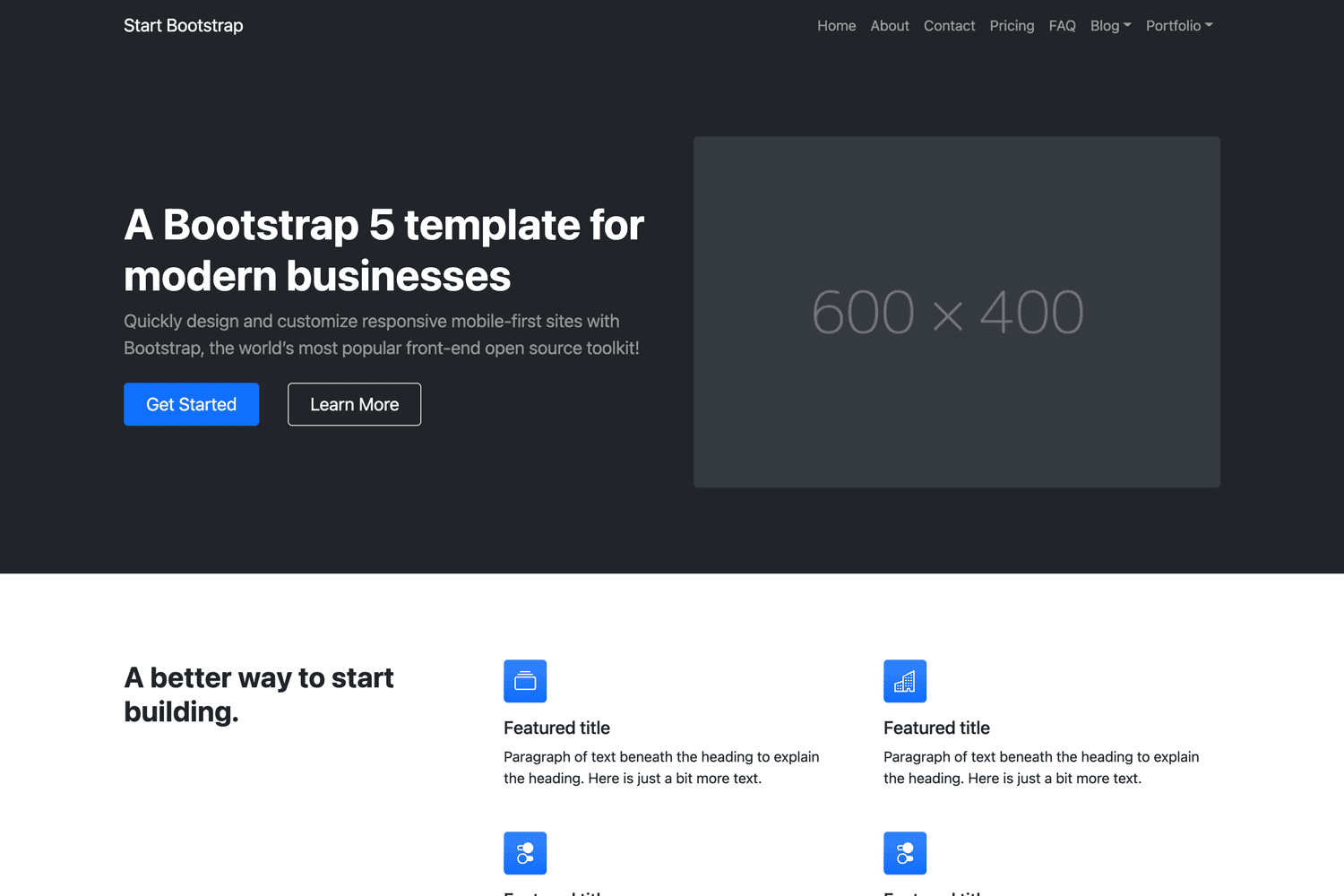 Our Modern Business template is one of our most popular non-admin templates, and now features 9 fully redesigned, responsive pages for a multipurpose package that you can use to build just about any marketing website.
Themes updated for Bootstrap 5
---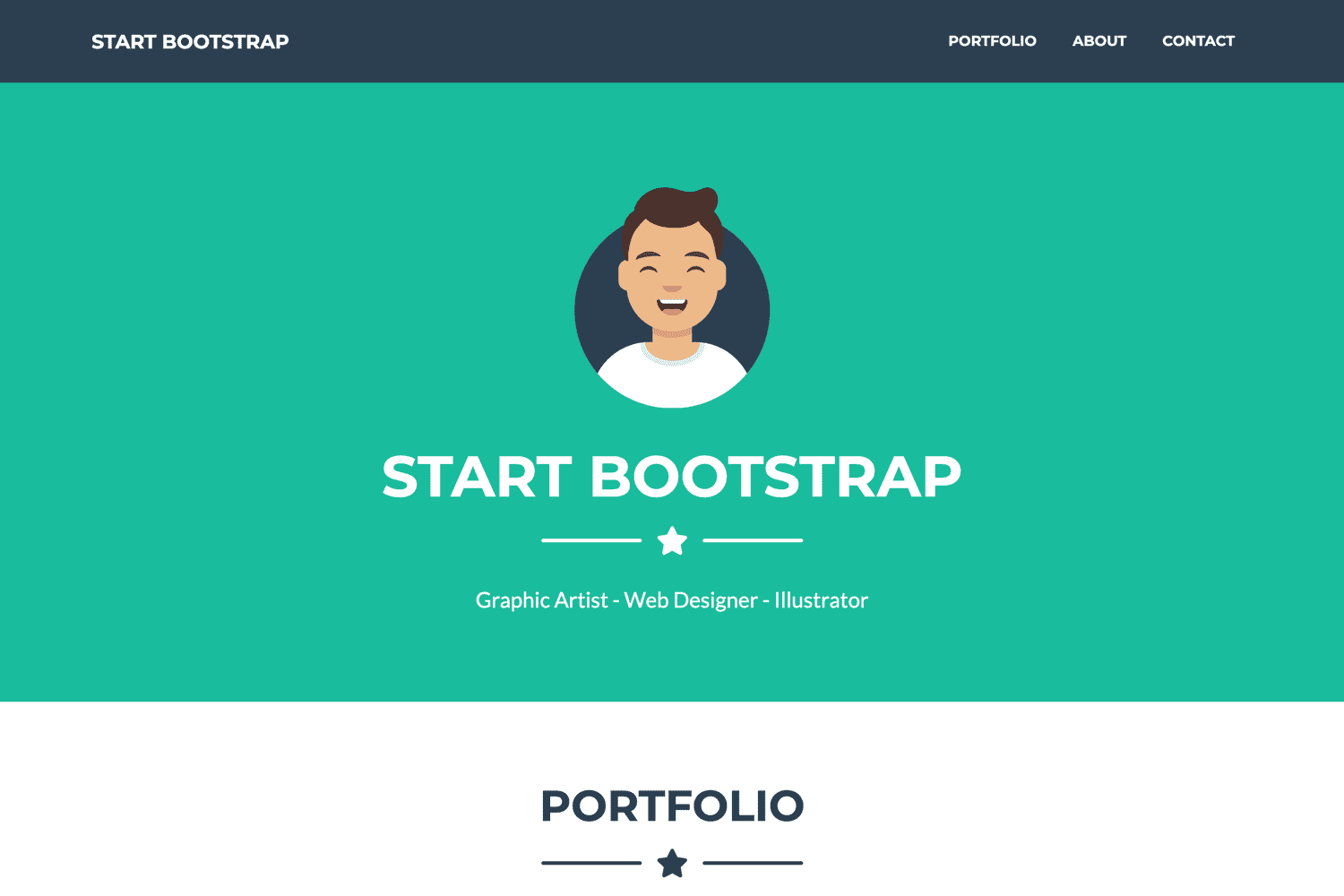 Freelancer's flat design style continues to remain modern, especially with a lighthearted and almost cartoonish style pattern. The contact form at the bottom of this theme has also integrated with our new Start Bootstrap Forms service if you want an easy way to add functionality to the form.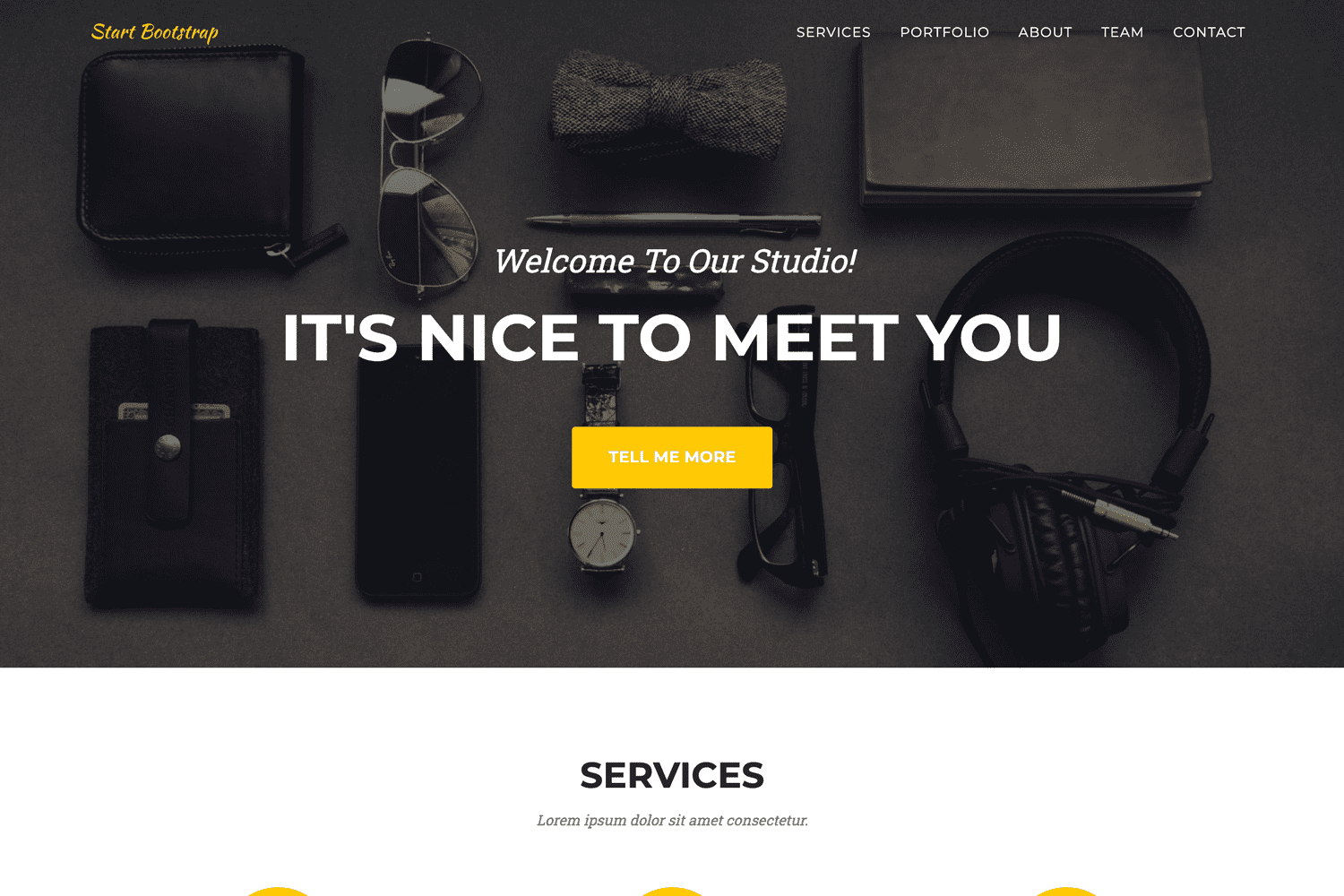 Apart from some small updates to the mockup images, the design of our Agency theme has not changed much. The big changes with this theme are under-the-hood, with a multitude of dependencies being dropped and rewritten in CSS, along with the move to Bootstrap 5.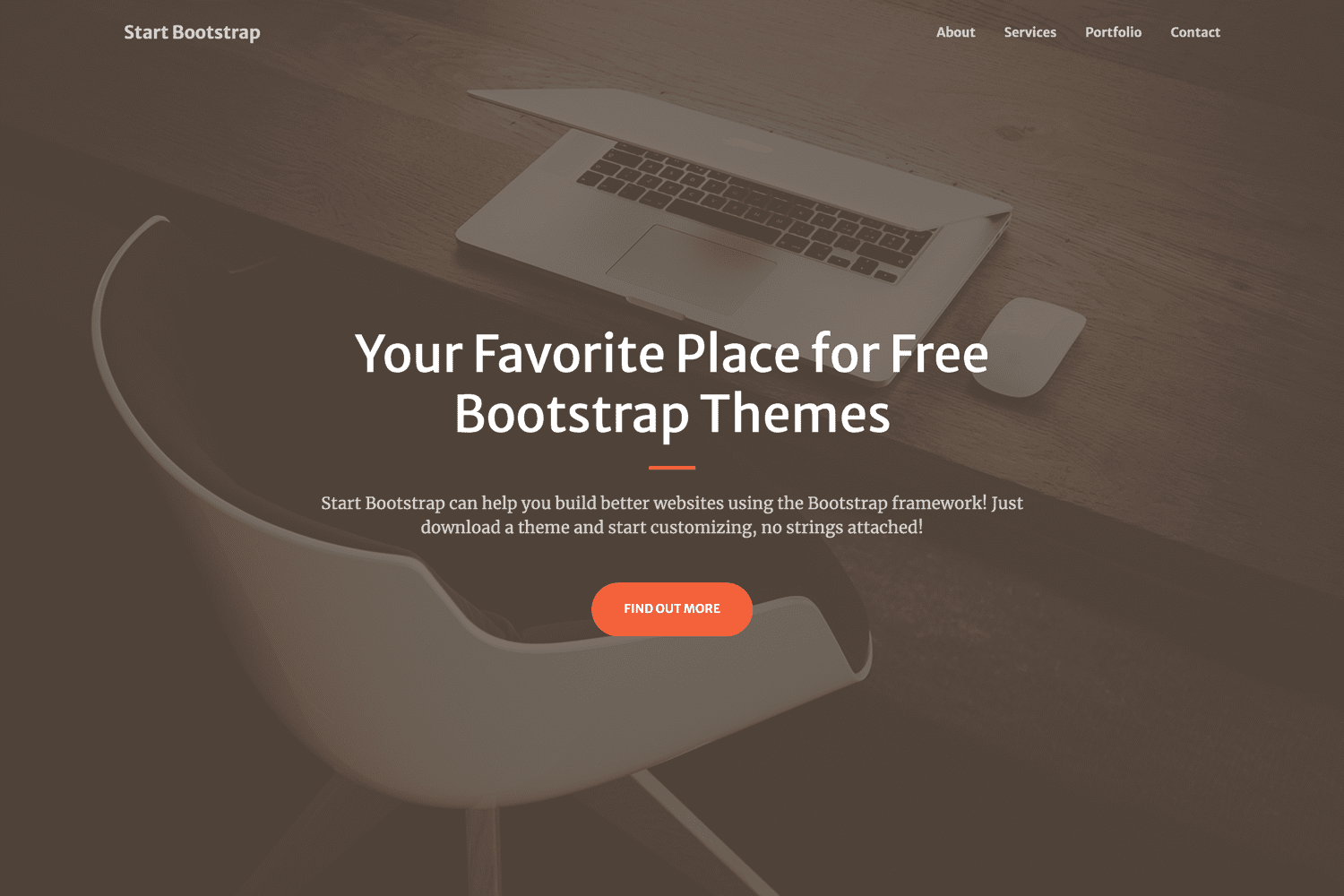 Our Creative theme features a new, non-jQuery dependent, lightbox plugin for the portfolio, along with the move to Bootstrap 5. Other than the code changes with this theme, not much else has changed, especially on the design end.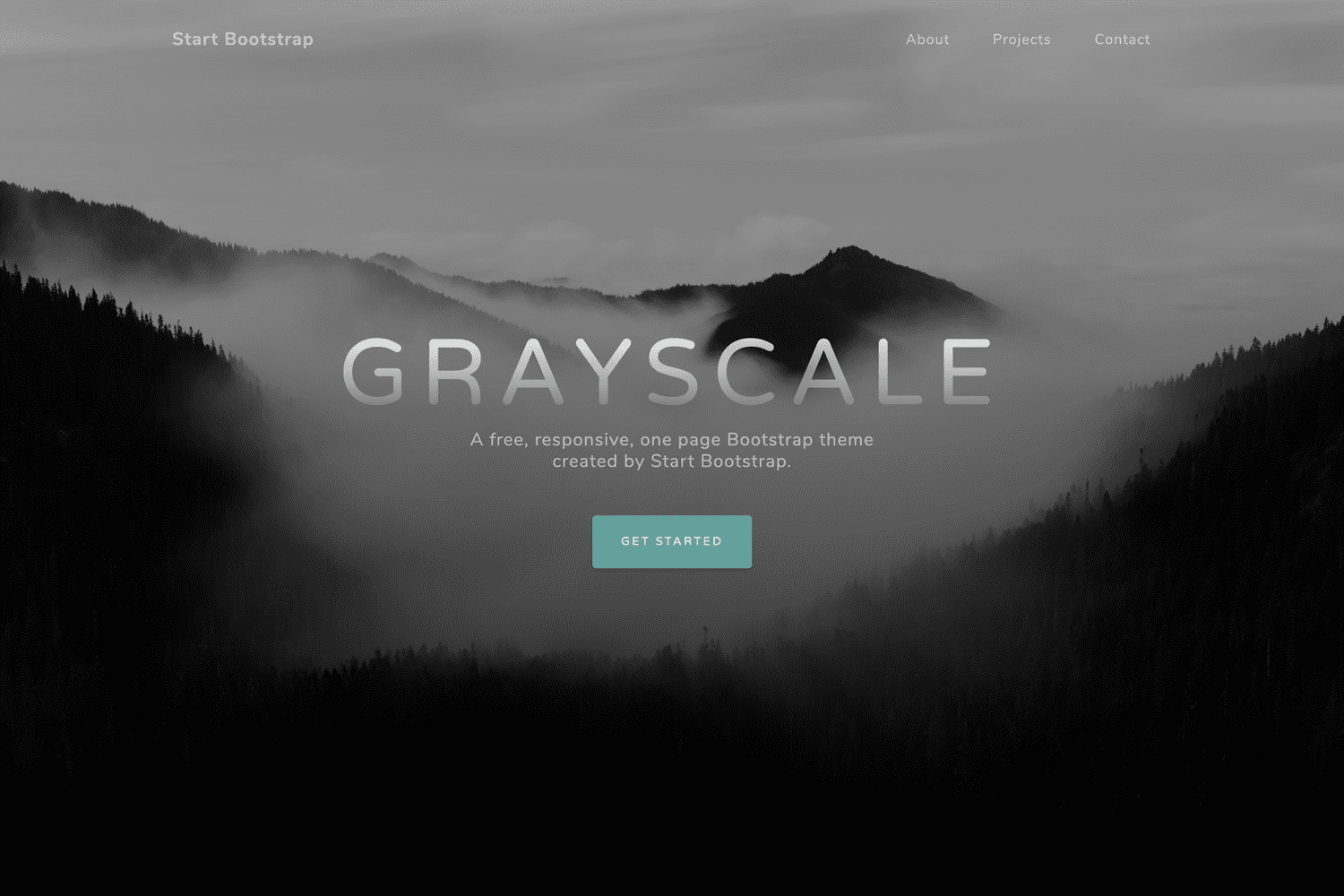 After redesigning this theme last year, Grayscale continues to stand strong in terms of design quality amongst the other themes on Start Bootstrap. The dark, dramatic styling of this theme is a great starting point for a landing page or other project!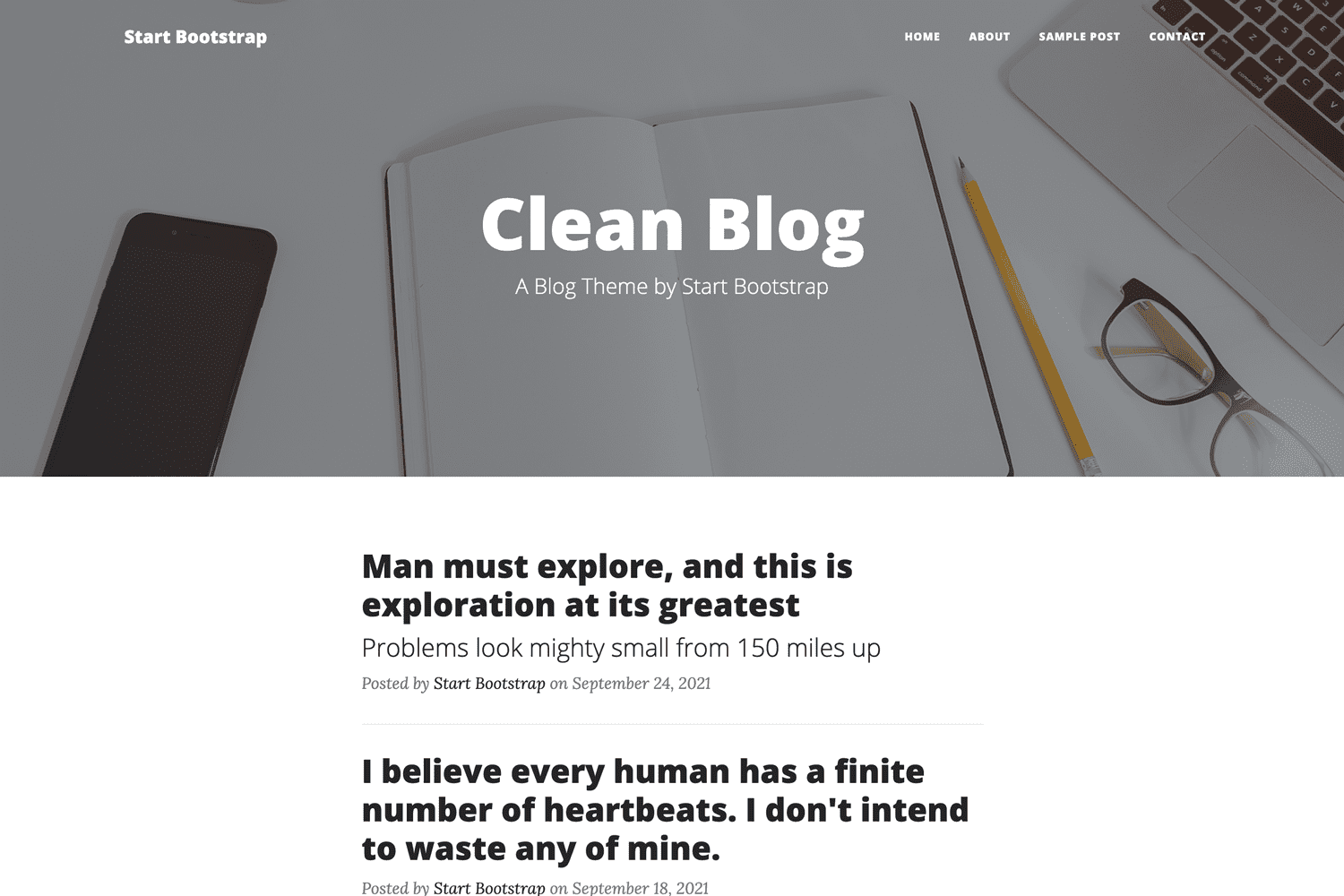 Inspired by Medium's look and feel a few years back, Clean Blog's design still remains relevant for all intents and purposes. With the removal of jQuery, the top navigation functionality uses a little bit of new, custom JS, and there have been significant code improvements to keep this theme up to date with the new Bootstrap 5 framework.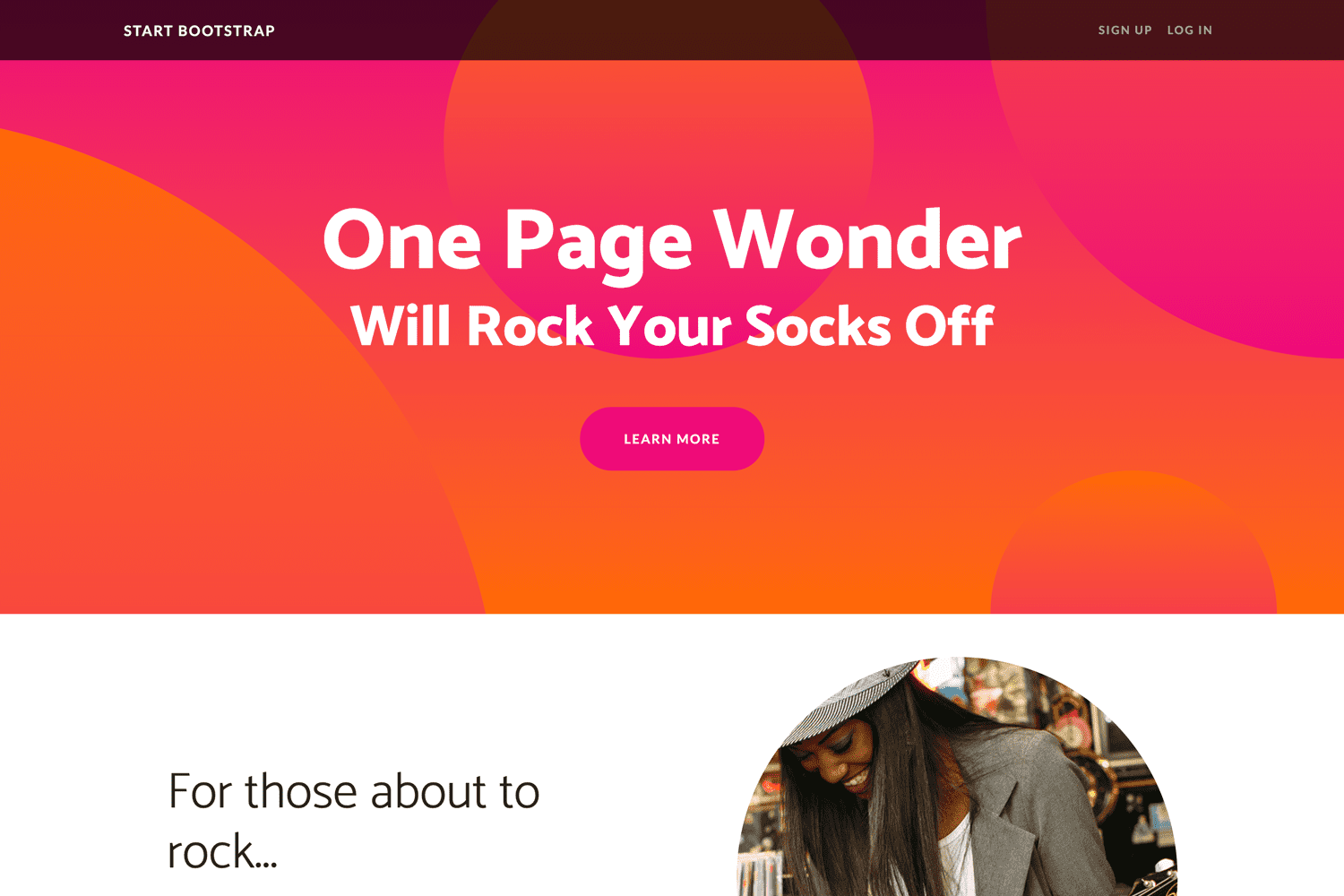 Apart from the Bootstrap 5 update, this theme has not been updated past that for quite some time. The design itself, inspired by an iteration of the Spotify landing page, is colorful and fun, but there is certainly more room for improvement with this theme as well, which we will be looking at soon.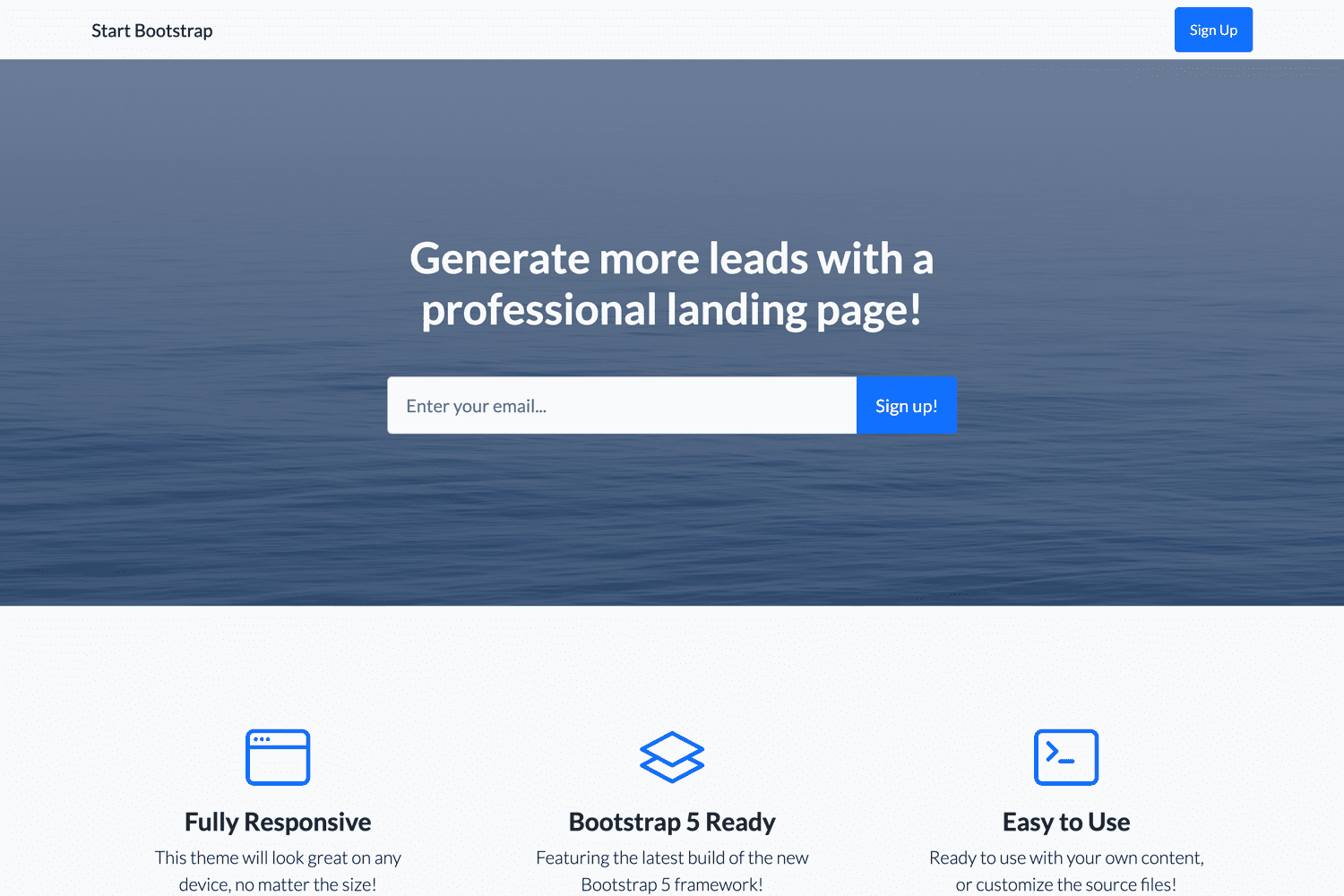 Landing Page has received a few small changes, most notably to the background images and the overlay intensity, but continues to serve as a great starting point for a basic landing page. This is another theme that definitely has room for improvement however, so we will be taking a second look at the design and functionality of this theme at some point.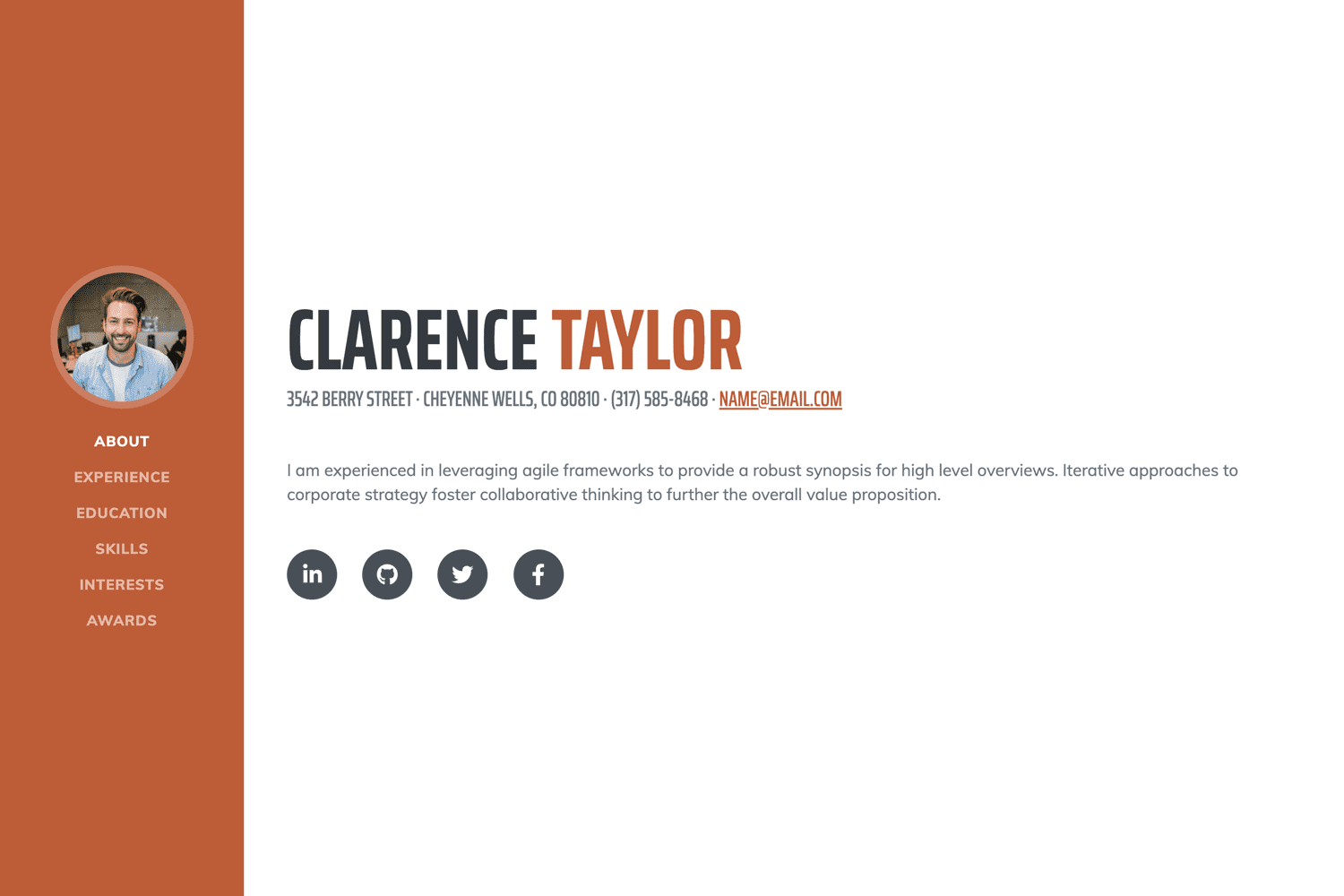 Our Resume theme has not received a design update this year, but is on the list of themes that may need a bit of TLC sometime in the future. The design of this theme presents as very utilitarian and straightforward, which is a good thing when it comes to a resume or a CV, but we will be doubling back and taking a look at Resume at some point to find opportunities for improving the overall design.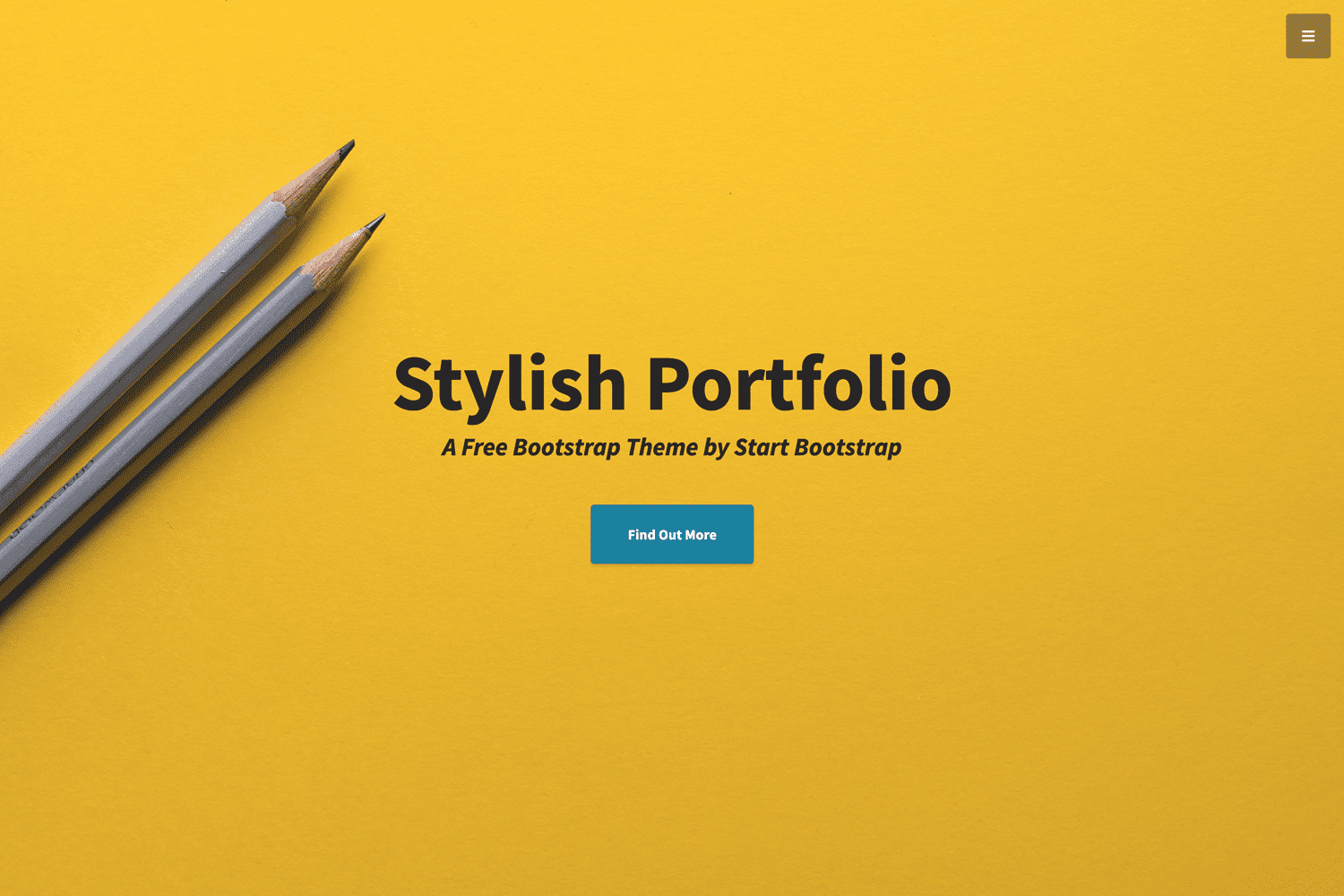 One of our more unique themes when it comes to the navigation style, Stylish Portfolio's bold yellow and teal colors continue to stand out and remain relevant stylistically. This theme has been updated to use Bootstrap 5, and is a great starting point for many different website projects.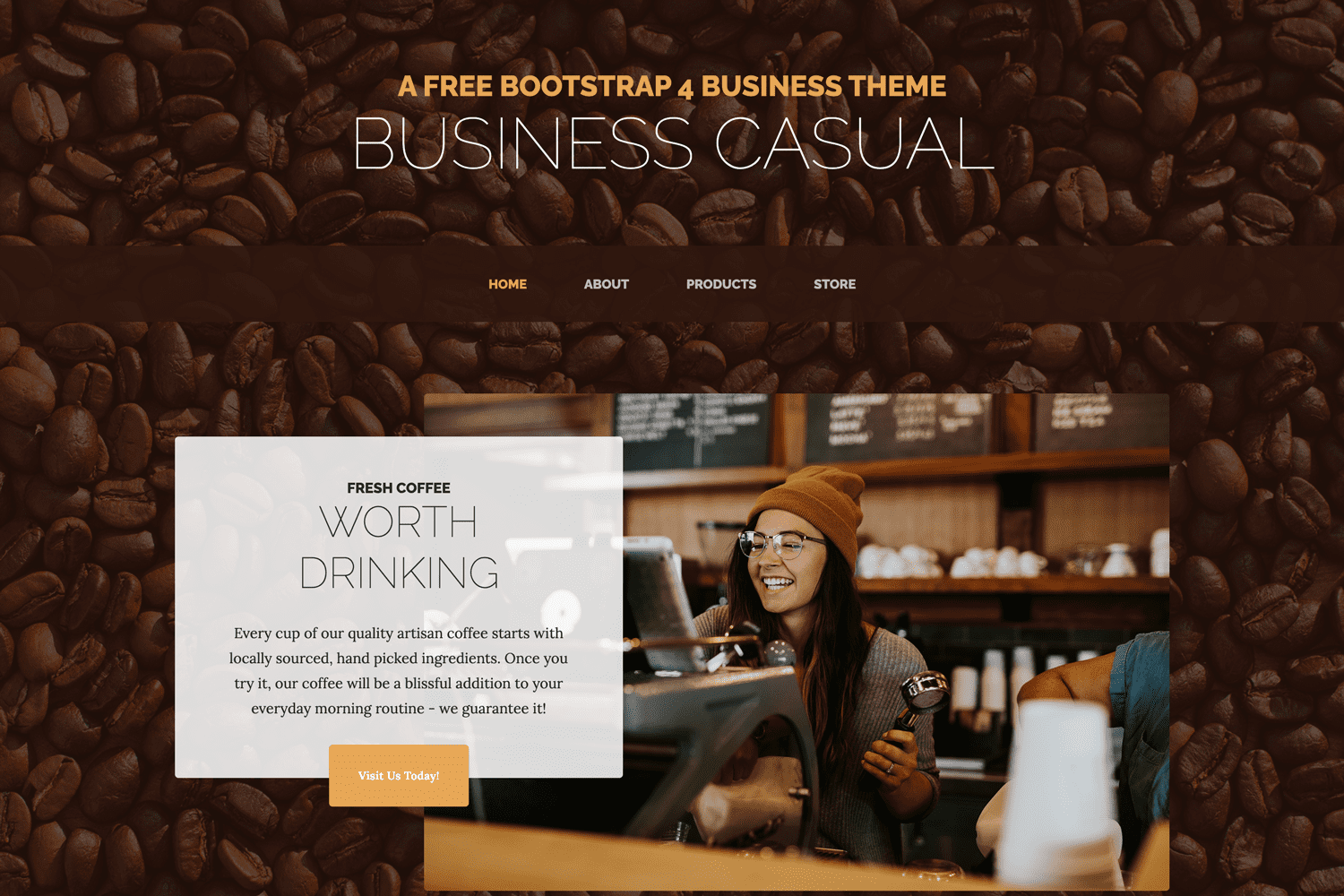 Although this theme's design says coffee shop, it can be anything you want it to be! Business Casual presents as a more niche theme, and is certainly a great starting point for a cafe or restaurant website, but is multipurpose with a few simple image changes.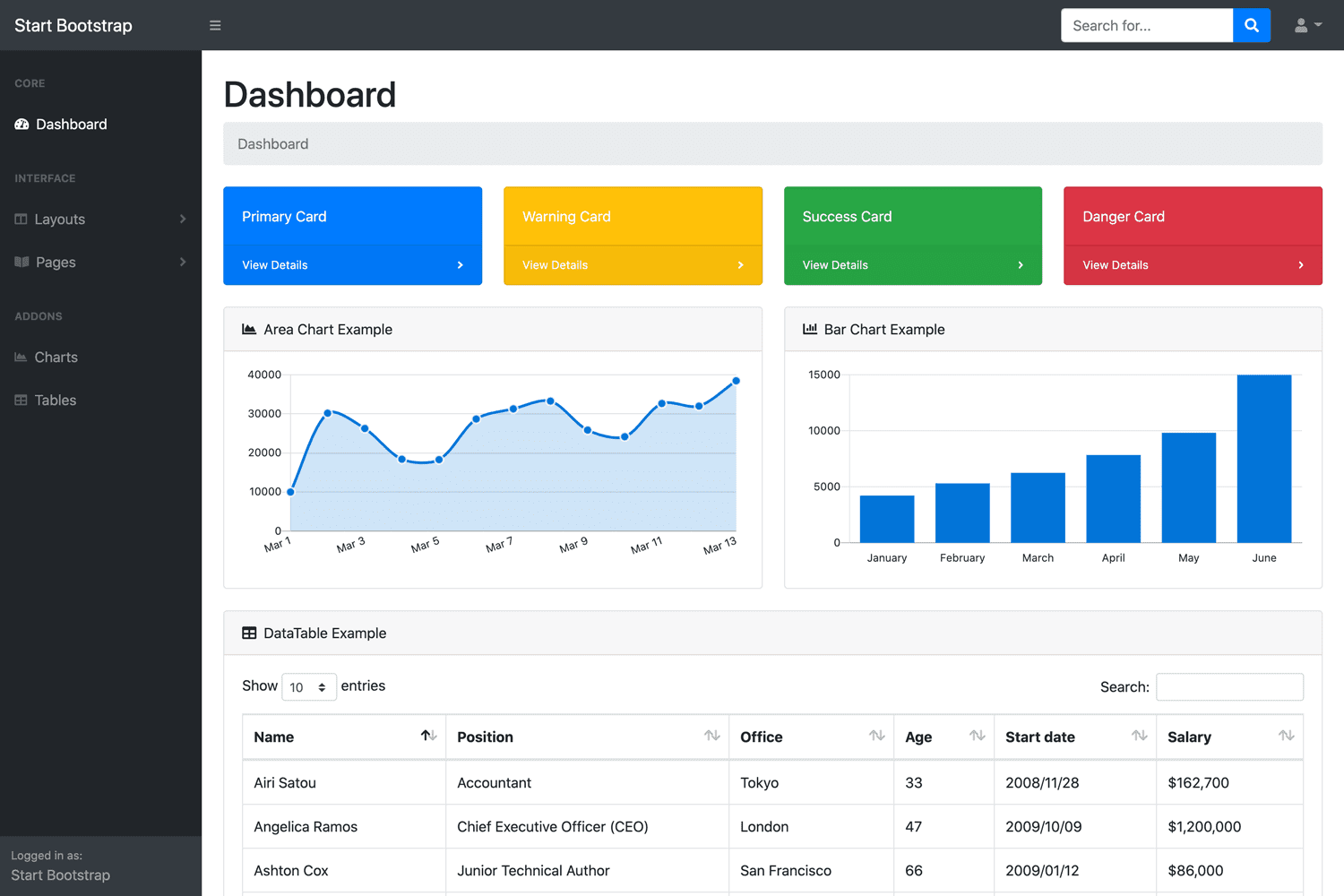 Our popular SB Admin template has also been pushed to Bootstrap 5, and has received some significant code quality updates to keep this product one of the most popular free Bootstrap admin templates on the web!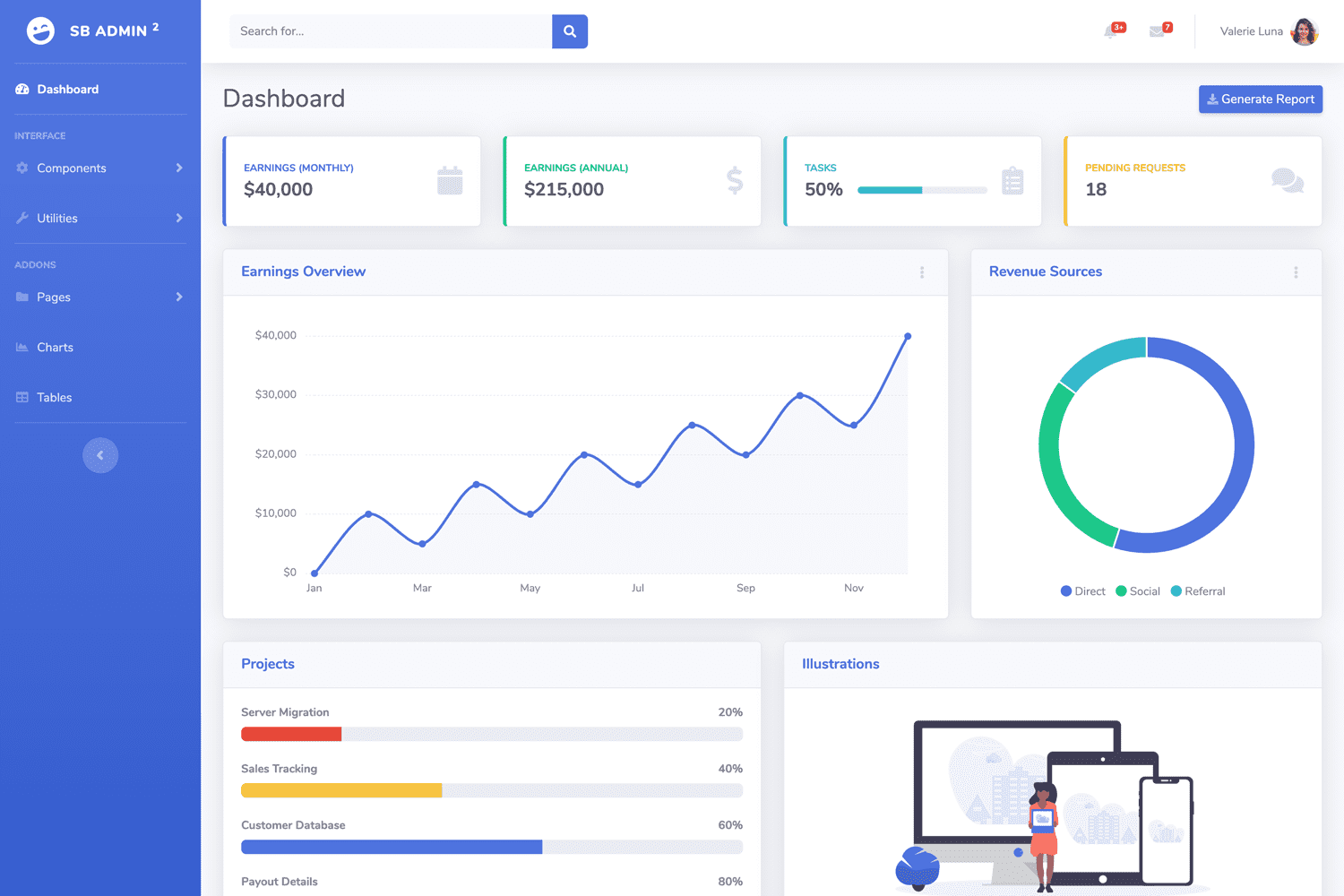 Since the update to Bootstrap 5, SB Admin 2 has been lagging behind a bit due to some new products and developments we've been making to Start Bootstrap. Since SB Admin 2 is our most popular free product, we want to make sure we get it right when we transition this theme to Bootstrap 5. When we do so, we will be updating the design a bit, and releasing a migration guide along with it for those out there who wish to update their apps to use the new version.
Coming in 2021
---
Apart from the SB Admin 2 update, we will be updating our line of pro Bootstrap themes with design improvements this year.
We have also just released our new Start Bootstrap Forms service with a Bootstrap 5 Form Builder which is free to use. One of our most frequently asked questions has been regarding form functionality on our themes, which is a tricky thing to get working correctly for many developers. That is why we have created our Start Bootstrap Forms service, which lets you quickly and easily add functionality to your forms that are part of our themes, or forms you build with our new form builder. Signing up for this service is also a great way to support Start Bootstrap's creation and maintenance of the most popular free Bootstrap themes and templates on the web!
Closing Remarks
---
Thank you for continuing to support Start Bootstrap. We're coming up on 8 years in business, and we couldn't do the things we do without you! Stay tuned for more updates to our free and pro Bootstrap products, along with other tools and services that can help you build better websites, faster.